Check out some of our customer's comments on some of our most recent projects! If you have had a project completed by Case Construction and would like to share your experience on our webpage, we would love to post your story here!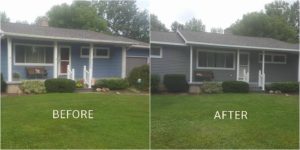 "A big thank you for a wonderful job on our home.  You made the process easy and stress-free for us.  Communication was friendly yet professional and we so appreciate your idea for the facia beam on the porch.  Your workmanship and attention to detail were outstanding, we will rightly recommend and call in the future."
-Charlie & Adriana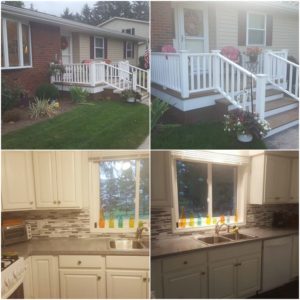 "Case Construction was a pleasure to work with.  They were professional, courteous, and respectful of our property. Each night they swept and cleaned up before they left.  We had all new windows, doors, siding, roof, new front and back porches and a total renovation of the kitchen.  We have received a number of compliments on the improvements.  Our entire experience from start to finish was wonderful.  Their work was excellent and we will certainly use this company again."
-Bill & Peggy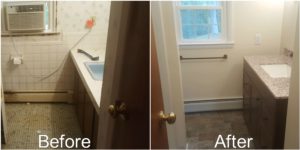 "I have nothing but good things to say about Case Construction. The quality of the work was excellent, the communication between Mike and myself throughout the curse of my bathroom remodel was outstanding and I am very pleased with the finished product! I would highly recommend Mike Case to anyone who needs a good contractor for their home Project!"
-Kathy B.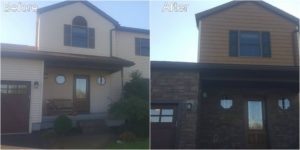 "Ron & Mike were a pleasure to work with from start to finish.  We were very pleased with the result.  A wonderful upgrade to our house.  If you are looking for a professional to work with, look no further.  We have received many compliments from our neighbors on the upgrades.  We were comfortable and confident leaving them to work on our home while we were at work."
-Dale & Elaine
"The thing that impressed me most is that Mike was available whenever I needed to talk to him. Nights, Saturdays, Sundays; it didn't matter and he always responded right away! Professional, courteous, and prompt! Great Job!"
-Norm C.

"Our bathroom was way overdue for a remodel.  Mike listened to my ideas and made them happen!  The results are better than I envisioned!  Mike and Anthony work great together and were a pleasure to work with.  Conscious of our having to be at home through the construction, they cleaned up nightly, with no messes left for us to deal with.  Case Construction will forever be our "go-to" guys for any of our construction needs.  Thanks, Mike and Anthony for the great job you did for us!"
-Bob & Terry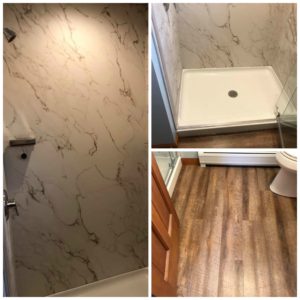 "Mike and Anthony do excellent work.  They had great communication throughout the project so you know what to expect, and when.  They show up when they say they will which is rare these days for contractors.  Mike and Anthony are the nicest guys too. I would definitely recommend Case Construction."
-Sheila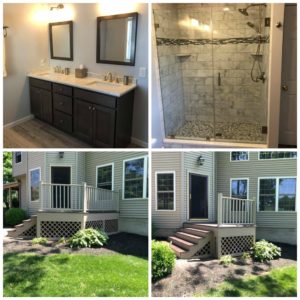 "Another Great Job!  Once again you've exceeded our expectations.  We always recommend Case Construction to our friends.  We hope to have more projects for you in the future!"
-Tom & Margaret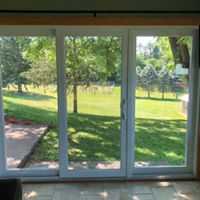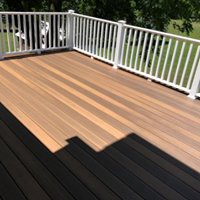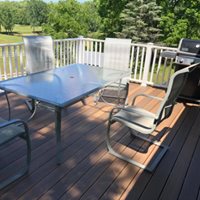 "Case Construction did a great job with lots of attention to detail. Very honest and professional."
-Aaron & Kristen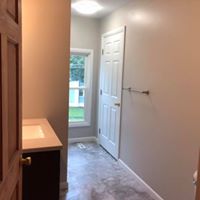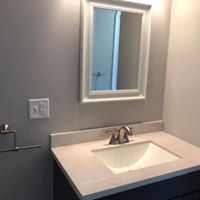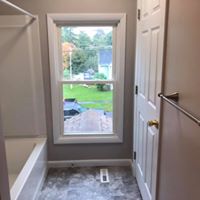 "Thank you for the remodel on my bathroom.  It went from an ugly bathroom into a beautiful, new bathroom.  Your expertise on suggestions from the beginning to the end was great.  I couldn't have done it without you.  I can't wait for you to do another remodel on the house."
-Chris S.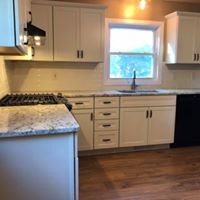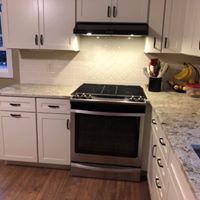 "Mike and his crew were great. He was always available when I had a question or problem. They try to stick to their timeline as much as possible. I highly recommend him for any job you have. I am going to have him do the bathroom soon!"
-Dave & Patty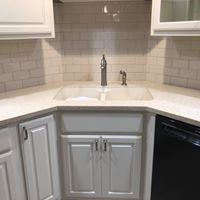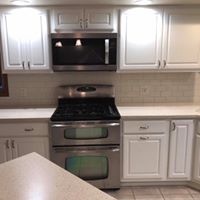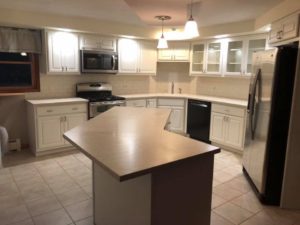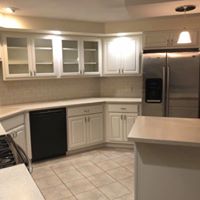 "We told you how pleased we are. From start to finish, you dealt with every issue that arose. Everything you said you would do, you did. You came in the evenings or when you had a bit of time to complete projects, all while your first child was about to be and then was born. We were in professional, competent hands; this was never in doubt."
-Don & Sue
"Mike and crew did a great job installing my new floor and new floor joists in a timely manner. Answered all my questions. Very professional and highly recommended. Everyone who sees my new floor compliments how good it looks."
-Bruce
"Thank you for being professional and easy to work with during the bathroom remodel. It turned out great and we love our new shower. You guys were always on time and stayed late to make sure the job was done as quickly as possible. We will call you again for other projects!"
-Jeff & Lori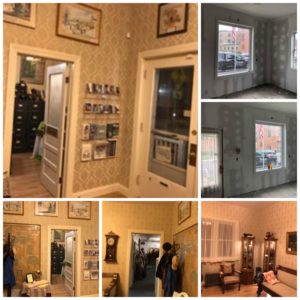 "The Board of Directors at the Old Brutus Historical Society would like to thank Case Construction for their magnificent job in the restoration of our parlor. We found Case Construction to be very knowledgeable, meticulous, and professional. They were able to meet our timetable while we coordinated our restoration's tight schedule. Their pricing is very fair and we highly recommend their services."
-The Old Brutus Historical Society Board of Directors
"Mike and his construction team did a great job. Very professional and excellent quality of work. Thanks for meeting my expectations."
-Mark

"It's been a pleasure working with you on our master bathroom project. The work you did for us turned out great! It's good to know we have a quality contractor we can rely on for future projects."
-Dave & Cecile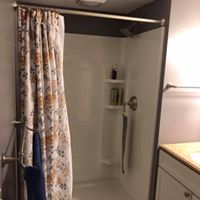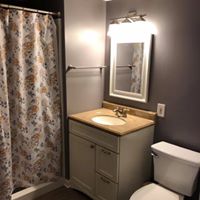 "Absolutely love my bathroom now. Looks even better than I imagined it would. Thank you, thank you! Even though there were a couple of unexpected issues, you handled them easily and the result was great. I will highly recommend you and your crew to anyone who is looking for a reliable, courteous, and efficient contractor for any remodeling work they are looking to do. 100% the best!"
-Debbie

"Mike, Anthony, Matt & Chad were absolutely amazing to work with. They are professional and courteous. Mike assures that the work is done precisely. We love our new living area and kitchen. I can't wait to have them back for a new bathroom!"
-Marianne & George
"Thank you so much, Mike and team! We are so excited to finally have both levels of our home able to be used and livable. Your team was always prompt and on time and we can't believe how quickly you were able to complete our project. "
-Kimber & Dave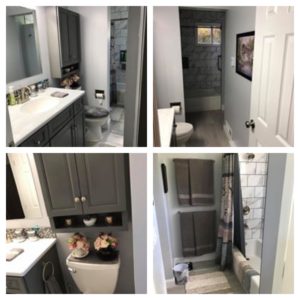 "I love my bathroom and I look forward to working with you as I continue my upgrades this year. You have been helpful, easy to contact, and always quick with answers throughout this process. You and your crew were always respectful of the house. Thanks for a great job. I would be happy to be a reference for you at any time."
-Leslie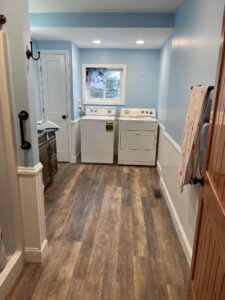 "Recently, we hired Case Construction to put an addition on our home which consisted of a combo first-floor bathroom/laundry room. From the first meeting with Mike Case to discuss our project, to the last day they were at our house finishing the project, we found the entire team to be personable and professional. We were kept informed throughout the project and were involved in every decision along the way no matter how small. The team showed up when they said they would and left each night cleaning up in preparation for the next day of work. The workmanship is top-notch and flawless. We have never had a project of this magnitude done, so we had numerous questions along the way... never once were we made to feel like we should not be asking questions. In the spring, we hired them to build a deck for us as well. We both agree that any future projects will hands down be done by Case Construction. We highly recommend them to anyone!"
-Edward & Betty B.
"We are so pleased with the job you did on our bathroom and the new windows! Everything looks so fresh and new. Your crew was wonderful in limiting the mess. I didn't have half the dust I thought I would of, because your crew made a conscience effort in containing the mess. Please let them know how pleased we are. Thanks again for a wonderful job!"
-Donna & Craig O
"Mike and crew were excellent. Responded in a timely manner, and showed up when he said they were going to. All around great experience, will be planning to use them again in the future."
-Rob
"Thank you for the great job you and your guys did at the camp -it looks awesome! I know the kids have other projects down the road."
-Ed & Marybeth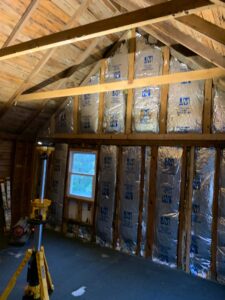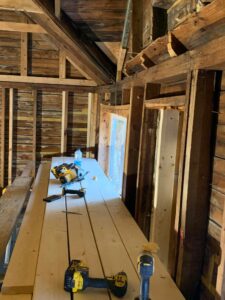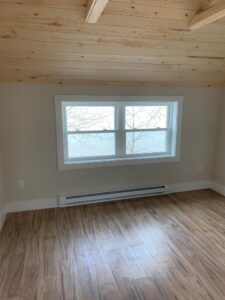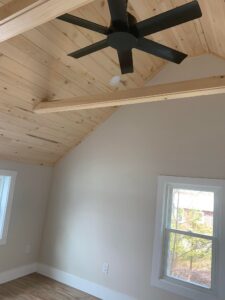 "Mike and his team were professionals. They were able to take an idea and a blank canvas and create our dreams. They knocked it out of the park. Mike was in constant communication, he kept us up to date on all progress and notified us of any issues, concerns, or questions. He allowed us to make decisions but was also a great resource to educate us on the construction. All of his employees were great. They were trustworthy and polite and every day the job site was clean like they hadn't even been there working. We will definitely look to use Mike Case and his team again in the future."
-Tyler & Brigid
"Thanks to Mike and his team we have a bathroom we love. The project went smoothly and I was kept informed of the progress throughout. The few add-ons that I had were not an issue for them to take care of. I appreciate the advice from them when I wasn't sure about my choices. We're very happy with the outcome."
-Sherry
"I am very happy with my new deck! The professionalism of the crew was excellent and I would highly recommend Case Construction!"
-Joan A.
"Working with Mike was a pleasure. From start to finish he always addressed my questions and concerns quickly. On the first day of remodeling our bathroom to completion Anthony and the others were so polite, professional, and friendly. Their goal was to please us, the customer, and they went way above that. We love our new bathroom and can't thank Mike and his crew enough. We look forward to working with them again soon."
-Dave & Dawn
"Thanks, Mike, we love our kitchen and the work you did. Thank you for getting us in sooner and thank you for putting up with my wife's condition and our dogs. We are very happy with you and your men. Will be contacting you in the spring for an estimate on the siding for the kitchen. Once again thank you."
-Ed & Barb
"Case Construction was fantastic to work with right from the start, they do what they say, and they follow through in a timely manner. The workmanship and overall attitude and professionalism of their crew was a delight! Highly recommend this company."
-Gina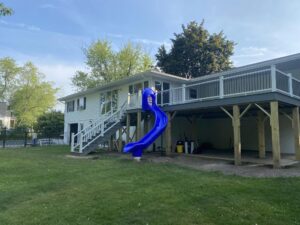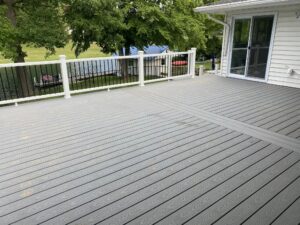 "My wife and I couldn't be happier with our new composite deck completed by Case Construction. The team communicated closely before, during, and at project completion to make sure we were satisfied. They were professional and personable with outstanding craftsmanship. There were some unforeseen changes/additions/obstacles with our project but the team communicated closely to make sure everything was completed to our liking and expectation. We will be looking to Case Construction for future projects."
-Dan Walter
"Thank you for the great work replacing the old doors on my new home. The crew was great - professional, prompt, and kind. I will definitely give you a ring for any additional work, much appreciated!"
-Jen
"We are very pleased with the quality of work and the personal, yet professional craftsman! The project was completed in a timely and very neat manner! We will certainly use Case Construction again."
-Donna & Glenn Fletcher
Have experience working with Case Construction? Let us know about your experience with a Google review!
Click here